Haydn McCartney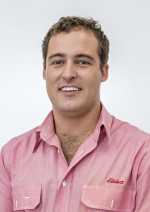 Sales Representative
In the last couple of weeks the Elders Real Estate Geraldton Branch has been bolstered by the addition of Haydn McCartney to their team.
Haydn is known throughout Geraldton and the Mid-West to be a hardworking, helpful and well liked young person that "gets stuck in" to any task at hand.
Never one to shy away from a challenge, Haydn left working on the family farm with his father and four brothers in 2012 before changing direction completely and commencing his real estate career the following year.
It didn't take long before Haydn built a reputation as an intelligent, personable and skilful sales and marketing consultant with an outstanding work ethic and well employed moral compass.
Elders Licensee, Peter Courtland said "We're rapt to have someone of Haydn's quality join the team".
"His farming background combined with the excellent start to his real estate career will make for an excellent fit at Elders."
Haydn while still working in the Residential, Industrial and Commercial sector will also move into the Broadacre/Rural sector.
"Having Haydn join us and complementing our other Broadacre Specialist Robert Taylor, will help us continue our growth in that area that Elders started in, 177 years ago – selling farms", Mr Courtland said.
Outside of real estate Haydn is passionate about, and plays a variety of sports including football, rugby, squash, tennis and basketball. Some of these he actually is pretty good at! Mr McCartney contributes whole heartedly and over the years has donated his time to coaching junior football teams and has committed sponsorship to many sporting organizations in Geraldton and the Midwest.
99658272
08 9921 2977
0437 783 949
After Hours: 0437 783 949